This is topic What is the purpose of JADE HELM?? in forum Off-Topic Post, Non Stock Talk at Allstocks.com's Bulletin Board.


To visit this topic, use this URL:
http://www.allstocks.com/stockmessageboard/ubb/ultimatebb.php/ubb/get_topic/f/14/t/007373.html

---
Posted by Relentless. on :

The whole training OP is a bit off in comparison to other state side training missions. Our troops train on our soil all the time... Daily in fact. Why is this one different?


I guess the first thing to note is that we notice. Why is that? Did some super sleuth reporter break the story after months undercover? No not really.. It just kind of hit the mainstream.

Why?


"Have you noticed that we are starting to be bombarded with images of troops in the streets? Have you noticed that the term "martial law" is coming up a lot in movies, news broadcasts and even in television commercials? In recent years, it seems like the solution to almost every major crisis involves bringing in troops. In fact, it has already gotten to the point where when something really bad happens a lot of Americans immediately cry out for troops to be brought in. And we are seeing the same patterns over and over again.

Just remember what happened in Ferguson – protesters were whipped up to a frenzy, when the riots began the police were ordered to stand down and not intervene, and finally National Guard troops were brought in as the "solution" to a crisis that had escalated wildly out of control. This is the exact same pattern that we are witnessing in Baltimore, and as you will see below, National Guard troops all over the nation have been training for this exact type of scenario. A couple of decades ago, many Americans would have regarded the notion of "martial law in America" as absolutely unthinkable, but these days the threat of civil unrest is causing an increasing number of Americans to embrace the idea of troops patrolling our city streets."

http://www.zerohedge.com/news/2015-05-01/are-we-being-psychologi cally-conditioned-accept-martial-law-america[/I]

---
Posted by Relentless. on :

Why would our military train to avoid detection in our country??

---
Posted by Relentless. on :

My take on the whole thing?
Why thank you for asking, as I certainly enjoy displaying my perception for those who ask.

The military trains for what they know is coming... They train in environments they will soon be deployed to.. Right? We saw this in the 90's when all of a sudden my BDU's went from green to tan..

Are we now seeing the same thing when current's BDU's go from tan to blue jeans?

Perhaps..

My suspicion is; there is an ISIS threat from the South. We could debate for some time whether that threat was funded by us or some oil producing suicide bombing enabling nation.. We could argue that and we might.

The end result of said argument would be my notoriously accurate expression of my perception, in that the two parties are one in the same.

Point being, as I fear over-expressing... They're training for an incursion. Given the news depicting 2-3 years of attempted radio-active material thefts (none ended well for the idiots). I would assume a dirty bomb set off in CONUS and a resulting MSM assumption that it came from the South of us.

Further assumptions made by MSM, aided by a now overtly paranoid DHS, would conclude not only are they here but they're not noticeable...

Cue the infiltration of the populace by those who are to save us...

---
Posted by glassman on :

I was wondering when you would get around to jade Helm.

I've been seeing the non-mainstream chatter/blogging on this for months now. I posted about it here on March 26...

I've heard all kinds of non-sense so i refrained from commenting.
I don't like it.
I don't think this is incursion response training. I think they are evaluating their own personnel.
It's possible they are setting up to do some Mexican cartel drug busts too... The NSA has been collecting all the data they can ahndle for ten years now. They should have been able to build a pretty good time and space mapping of the Cartels cross border activities...

look at the states they working this in: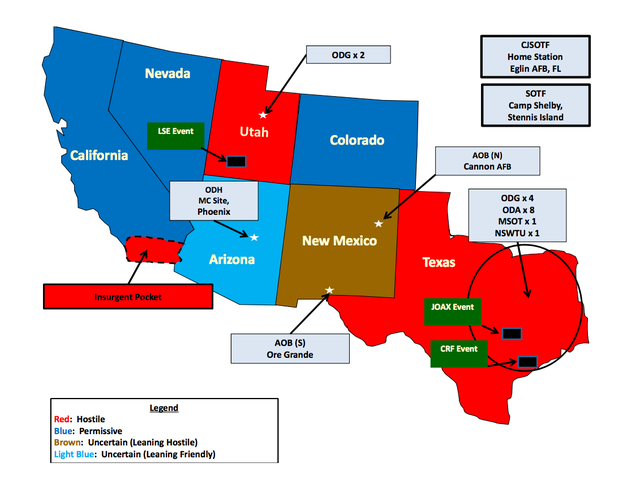 no doubt the cartels are making their own plans to avoid this op, and when you force soemoen to behave differently you can spot changes in behavior that you may be able to exploit... the cartels have been successful by using low-value mules for a long time and accpeting a percentage of losses due to being caught. By forcing them to either shut down all summer or altar their methods, they may be able to shake out a few of the decision makers from the mules...

---
Posted by glassman on :

Operation Mountain Guardian;
Mock terror attack going on today in Denver metro area
By Tom McGhee
The Denver Post
Posted: 09/23/2011 01:00:00 AM MDT19 Comments | U
Don't panic today if your surroundings erupt with sounds and images more familiar in Afghanistan than in Denver.

More than 100 emergency agencies are taking part in a terrorism-response exercise that promises to attract attention throughout the metro area.

Simulated explosions will boom, smoke will rise and emergency vehicles will blare warning signals as fake weapons are drawn.

The exercise, Operation Mountain Guardian, began at 5 a.m. and is to end by 4:30 p.m. and will involve 14 primary and secondary locations.

The exercise is an opportunity for regional first responders to react to a mock terrorist-driven catastrophe.

"We want to make sure that people will know this is what is happening on Friday," said Denver district attorney spokeswoman Lynn Kimbrough.

Most of the action will break out at five locations over the course of the day: Park Meadows mall; the former Smedley Elementary School, now closed; Union Station; Community College of Aurora; and Denver International Airport.

Sky Ridge Medical Center, Denver Health Medical Center and University of Colorado Hospital will test their ability to handle a surge of injured patients during the drill. And Sports Authority Field at Mile High "may have a small role in helping to process the (pretend) mass casualties," Kimbrough said.

Catholic Charities will serve as an evacuation center,

---
Posted by glassman on :

Mock Terrorists Reach Nuclear Bomb Material in U.S. Facility Drill

Aug. 2, 2013
Personnel transfer a plutonium oxide container at the Savannah River Site in South Carolina. Mock terrorists reached a supply of simulated nuclear-bomb material during an exercise at the facility in January (U.S. National Nuclear Security Administration photo). Personnel transfer a plutonium oxide container at the Savannah River Site in South Carolina. Mock terrorists reached a supply of simulated nuclear-bomb material during an exercise at the facility in January (U.S. National Nuclear Security Administration photo).

Energy Department personnel pretending to be terrorists reached a substance representing nuclear-weapon fuel after they fought through defenses in a January exercise at the Savannah River Site in South Carolina, the Project on Government Oversight reported last week.

Targets in a series of "force-on-force" exercises conducted at the facility included the H-Canyon Complex, which can contain up to several tons of weapon-usable uranium and plutonium, according to unspecified sources cited by the watchdog group.

---
Posted by glassman on :

Then there's this, and people are setting it down to Jade Helm...If this was for jade Helm? It was handled strangely...


Walmart surprised everyone and put 2,200 people out of work Monday when it temporarily closed five stores.

The reason for the shut down: plumbing problems, according to the retailer.

Two of the stores are in Texas, and the others are in California, Florida and Oklahoma. They will be closed for "extended repairs" for approximately six months, the company said.

The stores closed at 7 p.m. Monday, after workers were notified just hours before that they were losing their jobs.

"Everybody just panicked and started crying," said Venanzi Luna, a manager of the deli department at the Pico Rivera, Calif. store.


http://money.cnn.com/2015/04/16/news/companies/walmart-closing-plumbing/

---
Posted by Relentless. on :

The whole damned thing is fishy.

In what reality and after what occurrence would our military need to move covertly through the American populace?

That's the part I don't get. There's no reasonable possible engagement that would warrant "covert". The only reason for "covert" would be very unreasonable, and that would be because the target is an American or group of Americans. That is the only reason... That I can think of anyway.

---
Posted by glassman on :

so, you have to ask yourelf, is there a red and blue team? the map indicates that it's not red-blue exersize as much as it is an insurgency test. If the map is authentic? Then it looks political.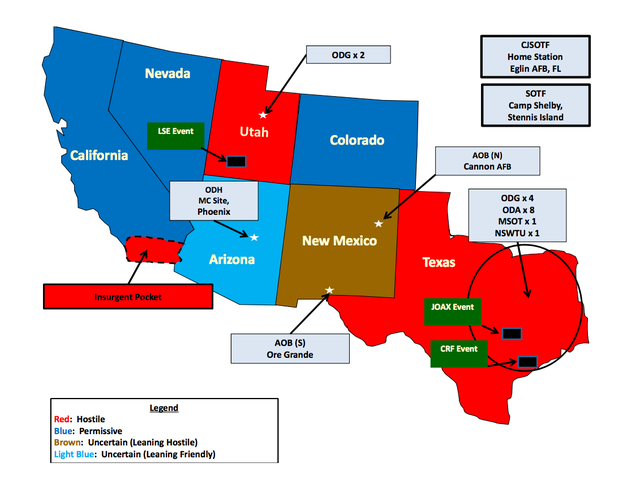 ---
Posted by glassman on :

Mexico declares all-out war after rising drug cartel downs military helicopter

"The government does not have the capacity to attack more than one big group at a time," said security expert Eduardo Guerrero. "Now it is the turn of the New Generation Jalisco Cartel."

According to Guerrero, the group has also developed a "perfected model" of operations that combines the militaristic sophistication and firepower of the Zetas with a capacity to infiltrate the authorities. The latter is most commonly associated with the Sinaloa cartel which, despite the capture in February 2014 of Joaquín "El Chapo" Guzmán, remains the biggest criminal group in the country.
http://www.theguardian.com/world/2015/may/04/mexico-declares-war-rising-drug-car tel-downs-military-helicopter

---
Posted by Relentless. on :

I don't think this training has anything to do with drug cartels. Their power is diminishing by the vote.

I don't know what jade helm is about to be honest, and I don't think it matters. The only thing I take from this which means anything is the military believes the next war will be fought here on US soil.

---
Posted by Relentless. on :

http://www.biloxi.ms.us/agendas/citycouncil/2015/040715/040715aexc.pdf

LIVE SNIPER FIRE...

The property they are intending to use is the site of my company before we left just after Katrina and is in NO WAY APPROPRIATE for military live fire training.

I'll be close by to have a gander at what is going on over there when or if it takes place.

---
Posted by Relentless. on :

What are our troops training for???

http://thebrigade.com/2015/05/22/fire-phobia-training-makes-for-a-kick-a-shin-gu ard-commercial-26-hq-photos/

---
Posted by glassman on :


quote:

---

Originally posted by Relentless.:
What are our troops training for???

http://thebrigade.com/2015/05/22/fire-phobia-training-makes-for-a-kick-a-shin-gu ard-commercial-26-hq-photos/

---
they are training for how the far right will respond if Hillary gets elected
---
© 1997 - 2018 Allstocks.com. All rights reserved.

Powered by Infopop Corporation
UBB.classic™ 6.7.2